Most games presented at the Playcrafting monthly demo night in New York, prototype or finished, are pretty similar to a handful of games I've already played in my life. However, the two times I went I have been able to find little video game gems that I would have missed otherwise.
---
Playcrafting used to be the New York City Gaming Meetup Group, but its success to gather a community of aspiring game developers enabled it to become much more. Among other events, workshops and classes, it organizes a demo night every month at the Microsoft Technology Center in Times Square, Manhattan, New York City, New York, United States of America, North America, Earth.
Here, a few dozens of games are presented to a paying ($8 early bird, $15 onsite) public. Games are ranging from desktop to console to handheld, and if a few genres are over represented like platformers, party action games or puzzle game, one can find anything and everything suited to its taste. Here is the list of games that I've been able to see or play during the 90 minutes I spent there on Wednesday, July 29th 2015:
Pollen by Mirror Fish Media
This is the first video game development project of Matt Mirrorfish and you can follow his learning journey on his blog. Pollen is an insect flight simulator in a geometric world that grows procedurally from the start of the level up until a fixed point. The gameplay is fairly straightforwar

it's a rogue-like shooter with experience point unlocking new abilities between levels.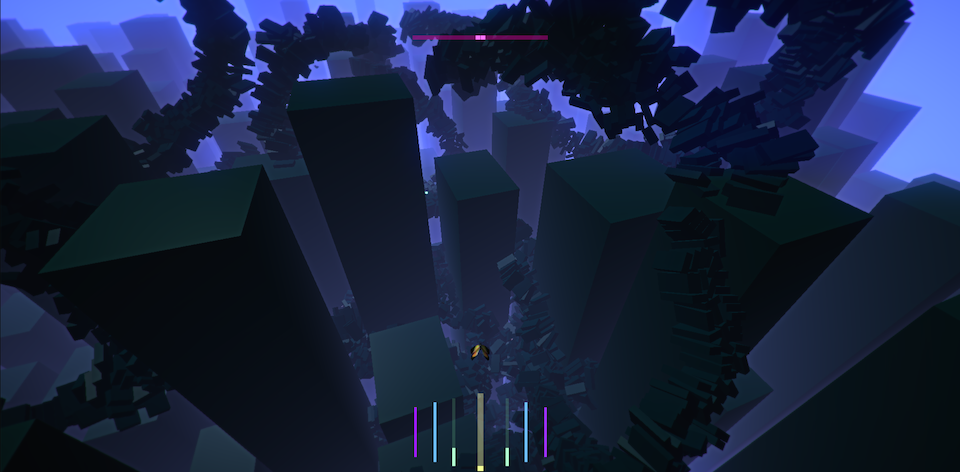 I really liked the setting and the feeling created by this game, however simple the goal was. Being able to fly in a procedurally generated world is already fun in itself, but superimposing the insect theme against the cold and blocky background made an impression on me. If you're interested in testing the largely unfinished game, you can shoot Matt an email to get into the Beta.
Mushroom 11 by Untame Games
This game could have been a physics-based puzzle-platformer like many others if it weren't for its simple and only control mechanic: you must guide an amorphic organism across a post-apocalyptic landscape using only an eraser that chip away at the organism. Fortunately, the organism grows the missing parts back so that it's volume stays constant.
The game feels intuitive yet quickly challenging. I admit I started growing feelings for the green blob making its way through beautifully rendered post-apocalyptical ruins. The organism growth felt very organic, even if it doesn't display any natural features other than the growth itself. Finally, it features music from The Future Sound of London that adds to the overall eerie feeling of the game.
Started as a 48 hour Global Game Jam 2012 project by Itay Keren and Julia Keren-Detar, Mushroom 11 will be available on Steam fall 2015.
Sumer by Studio Wumpus
Those who know me won't question the fact that I love both board games and video games. However, I had never seen a good combination of both. Video game adaptations of board game often turn out to be pretty boring (like Ticket to Ride on a single shared tablet), and board game adaptations of video game are to be avoided like the plague (like Starcraft: The Board Game [fr]). Until Sumer.
Sumer is played on a shared console screen. Featuring classic board game mechanics like worker allocation, auctions and scoring victory points, it also makes good use of the controllers. The gathering phase and the auction phase are real-time and mutual for all players, and the game rewards speedy players completing their phase first, and sneaky players stealing the much-needed resources spots from another player best-laid out plan.
All in all a very fun game that has the entertainment potential of a Mario Kart combined with the strategy interest of a Settlers of Catan. Sumer's release is scheduled for Summer 2016. Definitely my favorite pick of the night.
Bonus: Click here to load a Sumer Gameplay Animation
Conclusion
During my previous and first Playcrafting experience in January 2015, I had the great pleasure of meeting Adam Hasvers, the maker of Exeunt Omnes, a one-of-a-kind game that blends narration with strategy and that stood up in a rather conventional video game line-up. This time again, I was able to find a few games that didn't feel like I already played it before in a different form or another.
Therefore, I highly recommend going to the Playcrafting demo nights to all video game enthusiasts, be they designers, developers or just players.