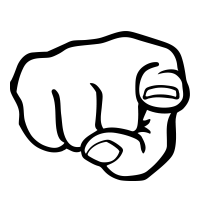 At some point in your role playing career, you will encounter "that guy". It is inevitable as rain or bad news. Ask anyone who has been gaming for awhile and they'll sit there and rattle off a few doozies with a thousand yard stare.
So who is "that guy"?
---
There is no exact definition or parameter of behavior. It's typically someone at your table who is disruptive, disrespectful, argumentative, hasn't bathed, hogging the spotlight or flat out being creepy. My personal "that guy" story involves one of my table mates, a less than pleasant smelling fellow, holding up a traced hentai picture and declaring that this is what his character looked like and that he wanted to have sex with me.
Yeah. Fun night.
Now here's the thing, he didn't mean for it to be serious and he wasn't intentionally trying to creep me out. He was playing a character from the Book of Erotic Fantasy, a Dungeons & Dragons supplement, and he was just trying to play his character, but he was just too enthusiastic about it and made a faux pas. We all made crude jokes and remarks around the table, this just happened to be aimed directly at another player. We talked it over and he saw the error of his ways. Kinda.
The reason I bring this all up is because this is a common occurence amongst role playing groups. Someone is acting out or disrupting the group and the other players are unsure of what to do about it. On one hand, the person is probably their friend and they don't want to hurt their feelings or embarrass them. On the other hand, everyone is getting together to have a good time and it isn't right to allow one or two people to ruin it for everyone else. Compound that with the fact that many gamers happen to be socially awkward people and you can have a real mess on your hands.
In the end though, there is only one real way to deal with this situation: sitting the person down and talking to them like an adult. It may be uncomfortable and there will probably be some friction, but it really is the best way. First things first though, is deciding what the group wants to do about it.
The group, sans the problem person, should talk and agree on a course of action. Do they want to give the person another shot or perhaps ask them to leave the group? Maybe changing systems would help? What's important is that the group comes to a consensus about what should be done first, before any action is taken. The last thing you want is to unintentially anger or offend another group member.
After the group makes up their minds, someone has to bite the bullet and deliver the news. In most cases this is the GM (Game Master or person running the game). Typically they are the one who brought everyone together so they tend to bear the burden of keeping the group civil. This may not be the case for every group though. It may be smarter to have the person's closest friend or the whole group speak to the person in question. Decide as a group and follow through.
The last bit of advice is critical; keep things calm and don't get emotional. More than likely the problem person is going to be upset. They probably don't view their behavior as negative or disruptive and will more than likely be angry and argumentative. Don't get riled up yourself, it will only make things worse. Its much easier to be angry at someone who is yelling and upset than a person who is calm and simply stating facts.
I'm not going to lie, unless the person is a real ass, you're going to feel bad about this. Its neither easy or fun to turn someone away, but it really is better for everyone in the long run. It doesn't have to be permanent and it doesn't have to result in the loss of a friendship either, but if it is that big of a problem, it should be handled.
Good luck.