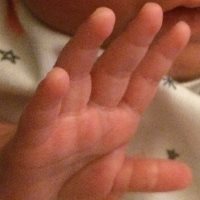 I wrote this text a week after my daugther was born on summer 2014. She was a little premature, so she stayed in the maternity ward for a month before she could come home. On one of those evening, back from the Neonatal Intensive Care Unit where she was cared for, inspiration struck.
---
Frankly I didn't know what to expect from a child. Was I going to be able to bond with him or her (we didn't know the sex until the delivery)? Was I going to be able to take my share of responsibilities of the care of a newborn? Would I be a good dad?
I smile at all this questioning now that I am seated in front of Josephine's incubator where she is lying peacefully. Her breath is still irregular at times, sometimes she frowns for no apparent reason and flays around her little limbs. But she's mostly resting, and I wonder if she can dream.
Of course I'll be a good dad, of course I'll take care of her when I'm awoken at night just at the thought that she's not able to breathe, when I'm more confortable at the hospital at her side than at home, even if I don't have any direct interaction with her.
Such a little thing, and I know I'm hooked up for life.